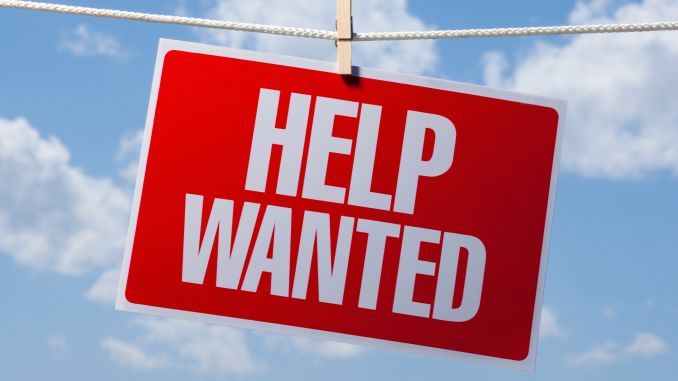 Need An Agent
PUBLISHED AUTHOR CHARLES N. DIORIO SEEKS AGENCY REPRESENTATION FOR HIS NON-FICTION MEMOIR: HARD TIME WITH AARON HERNANDEZ
HARD TIME WITH AARON HERNANDEZ, is a carefully crafted true crime memoir (approx. 265 mms. pages), recounting the author Charles N. Diorio's experiences from criminal sentence in a Massachusetts courtroom to state prison reception in Walpole, medium security lock up in MCI-Shirley, and ultimately the maximum-security Souza-Baranowski Correctional Center.
This gritty look into deplorable conditions of confinement intersects with the well-known drama of Aaron Hernandez, whom Charles Diorio shared a cellblock with from early 2016 until just weeks before his tragic suicide.
HARD TIME WITH AARON HERNANDEZ is a no-holds-barred account of conditions within the Souza-Baranowski Correctional Facility that may have contributed to Hernandez's decision to take his own life.
Drugs, violence, and gang associations all play a role in the evolution of culture in prisons everywhere, within the sealed-off and isolated Souza-Baranowski Correctional Institution these elements are magnified creating a world of despair. A despair richly captured by author Diorio in this remarkable first-person account.
Mass Incarceration, the breakdown of essential institutions, and corruption play a role in Diorio's colorful account of life behind bars. So too does the infamous Boston double-murder and killing of Odin-Lloyd by then emerging New England Patriots football star Aaron Hernandez.

HARD TIME WITH AARON HERNANDEZ is seeking a home with a sympathetic, loyal and motivated literary agent. This material can, and should benefit from careful attention from careful attention from a motivated and diligent agent with impeccable credentials and must be a WGA signatory.
Author Charles N. Diorio is currently incarcerated, his novel Run Charlie Run has recently been published from GrahamR Writings LLC, a small independent South Carolina based press. Non-fiction essays related to prison life and issues affecting prisoners may be found on www.JPP.org (Univ. of Ottawa Press).
Email: AuthorCDiorio@mail.com
Twitter: @AuthorCDiorio
Address: P.O. Box 9106, Concord MA 01472
Contact: www.corrlinks.com
---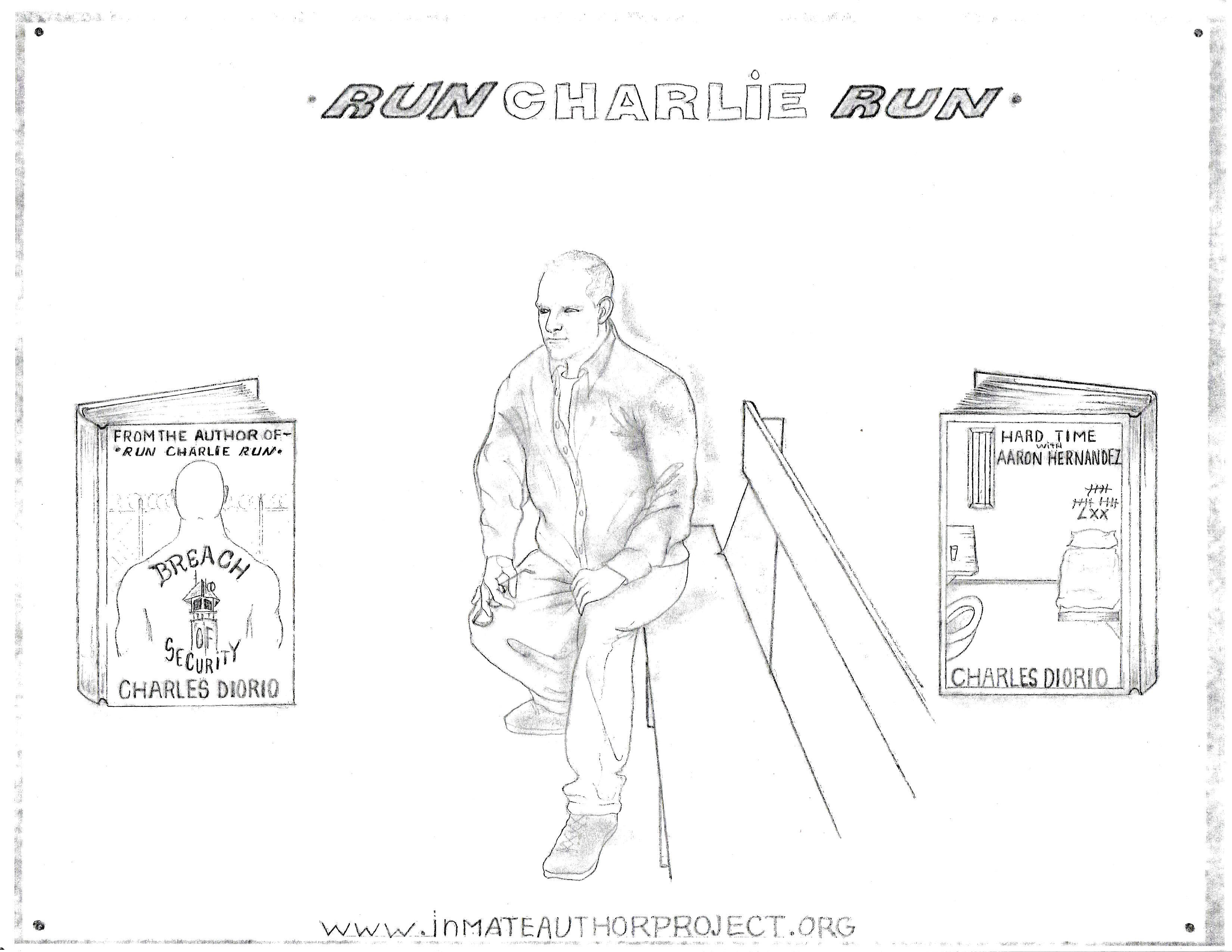 NEW RELEASE COMING SOON IN DECEMBER!
BREACH OF SECURITY!
A character driven fiction where the characters represent universal truths. Written purely as commercial literature, it tells an important socially provacative story. A true rollercoaster ride from beginning to end.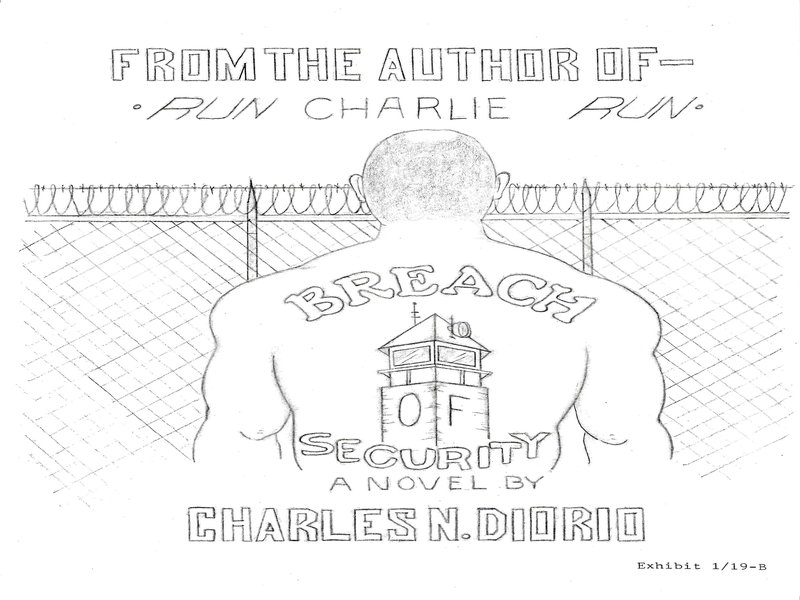 ---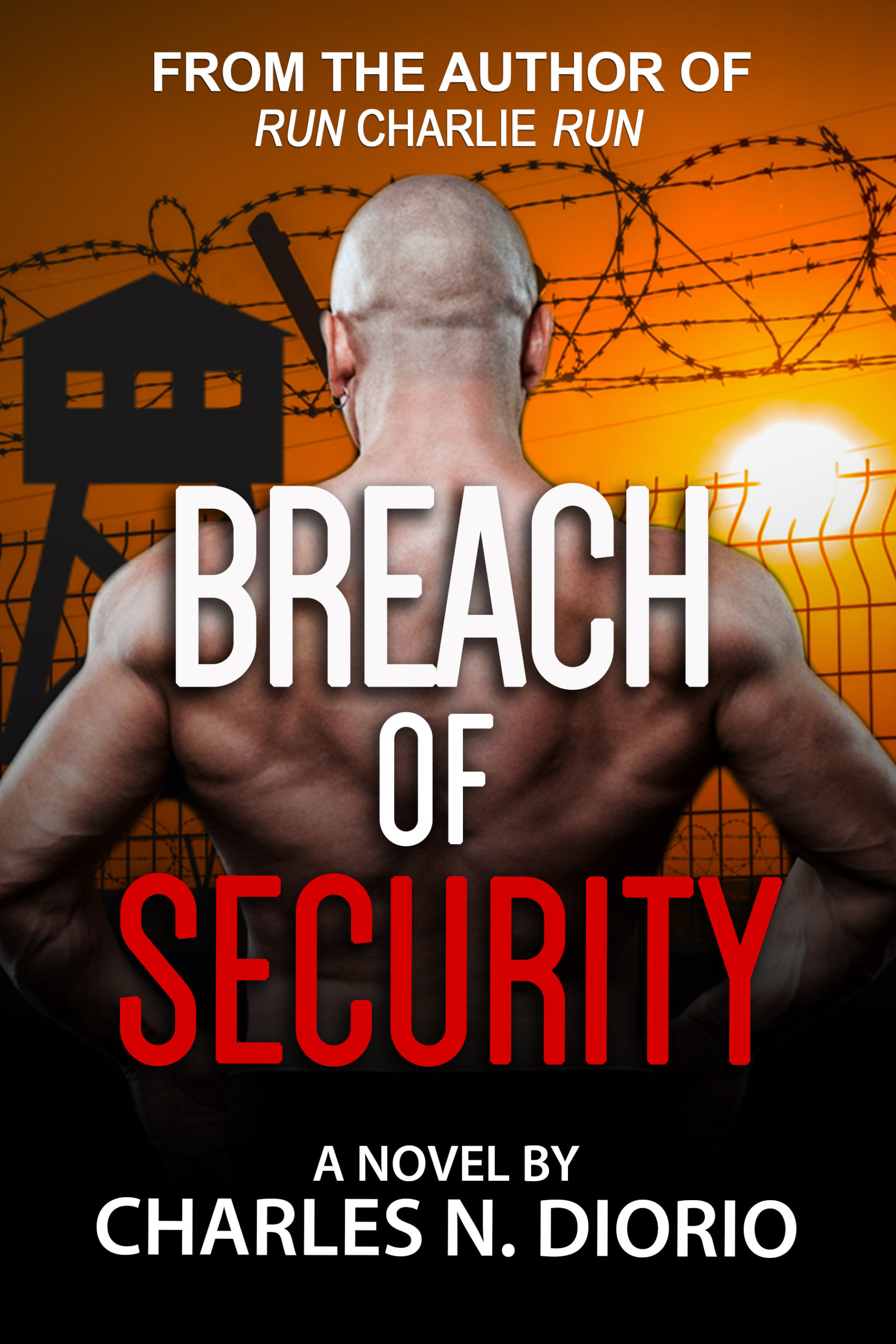 BREACH OF SECURITY!
Crime, Drugs, Corruption, Murder. A crisis in a modern prison . A glimpse of living on the edge of existence.
The novel, Breach of Security, is a sordid pedestrian tale. Lucid and graphic, it moves effortlessly from the streets of Chelsea and Somerville, Massachusetts into a Commonwealth prison.
It's a story of low level drug dealers targeting correctional facilities and the rampaging effect this trafficking has on people, and institutions involved.
Breach of Security is character driven fiction; characters represent universal truth and universal themes. Written as commercial literature, it tells an important socially provocative story.
Mr. Diorio's work is powerfully written. It's a roller coaster ride from start to finish. Desperate characters live on the edge of existence and institutions can't escape Diorio's scrutiny ; his ever exploring evolution of culture.
From the author of Run Charlie Run A novel by CHARLES DIORIO
---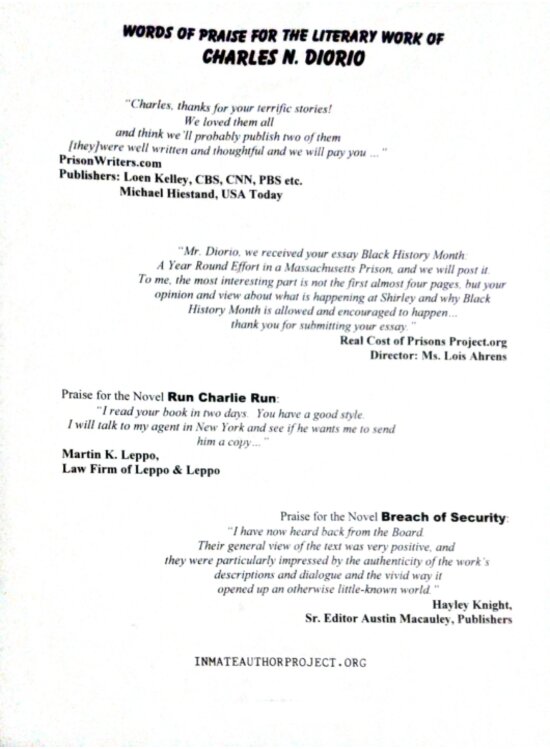 Author Charles Diorio is seeking a web savvy volunteer/assistant. If interested please write or e-mail AuthorCDiorio@mail.com
Incarcerated Author Seeks Social Media Volunteer.
Published inmate author needs a socially conscious web-savvy volunteer to help create Crowdfunding campaign ... manage Twitter, websites and make and take telephone calls . If interested you must respond with your address and all replies will be made by regular first class mail only . No E-mails will be responded to ... serious interest must provide a mailing address for a response ... All queries will be responded to by regular mail only .
"Fiction is the truth, inside the lie"
Stephen King
.